Configuring Java
Supported versions
The default version can be changed from the alwaysdata administration, under Environment > Java. This is the version that is especially used when you start java.
Versions are not necessarily already installed.
Binary to use
To use a Java version that is different from the default one:
go on Environment > Java,
or use JAVA_VERSION=[VERSION] java (replacing [VERSION] with the desired Java version).
Environment
Your Java environment starts off empty, with no ready installed libraries.
HTTP deployment
To deploy an HTTP application with Java, create a User program type site in the Web > Sites section.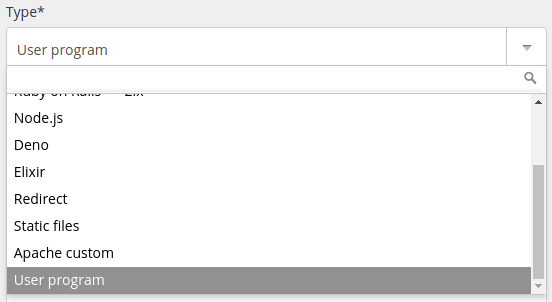 You need to specify the command that will start your Java application, for example:
$ java -Xmx512m -jar jenkins.war --httpListenAddress=$IP --httpPort=$PORT

$ java -jar app.jar --server.address=:: --server.port=$PORT

Your application must absolutely listen to IP :: and the port shown in the site configuration in the Command field or use the IP and PORT environment variables.